We did it! With the help of all of you–our rowers, supporters, family and friends, we accomplished another incredibly successful Jingle Mingle!  This year's Jingle Mingle was the largest yet with more than 350 people in attendance and more than $22,000 raised for our youth programs!
The day's featured program, a marathon length (42,195 meters) ergathon was not only fast, it was competitive! The top two teams, Yukon Cornelius' Revenge and The Grinches, finished within 6 seconds of each other with times of 2:43:21 and 2:43:27 respectively.  With our final team coming in at 3:10:52, the race moved along swiftly and with much excitement.  With everyone from national team members to parents to adaptive athletes erging, the atmosphere was competitive, supportive and thoroughly intense throughout the event.
As the ergathon progressed, short 500 meter pieces occurred on the side.  The Row New York alumni duked it out for first place and bragging rights while middle school boys and girls raced students from the Horace Mann School.  Parents challenged their children (and almost beat them!) as varsity boys and masters rowers pulled strong splits to outlast each other and take home championship medals.
The fun at the Jingle Mingle did not stop on the rowing machines. All of the participants got to exercise their palate in the bake-off.  The sweets were judged based on taste and presentation by Amanda Kraus and national team members David Banks and Esther Lofgren. After much deliberation the winning sweet was determined to be Marice Love's Pecan Squares.  Honorable mentions also went out to Kay Sanders, Betty Cao and Laura Adams for their delicious and beautiful confections.
Thank you to Hunter College High School for the use of their space and to Esther Lofgren, David Banks and Meghan Musnicki from the national team for their continual support and mentorship!
Get a feel for the event with a video sneak peak of the ergathon here!
Happy rowing!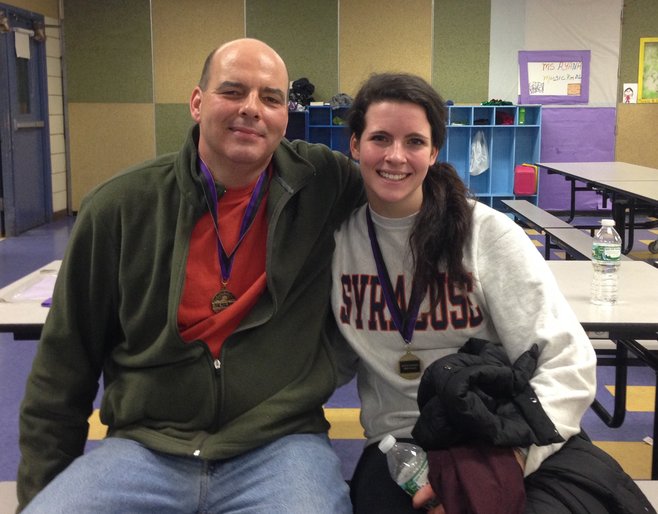 Above are John and Shannon McCann (an alumna) who won the parent-rower race.