Row New York's 10th Year Celebration Gala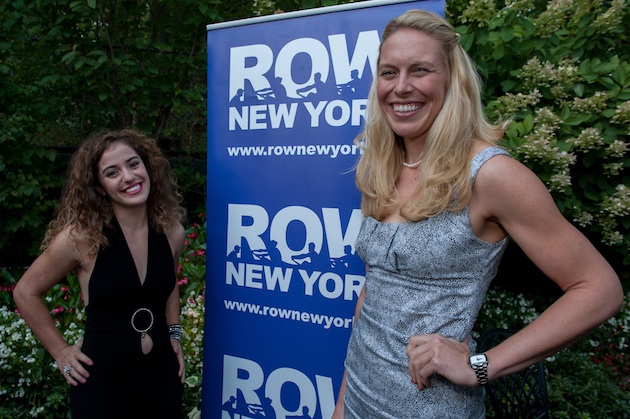 Thank you to everyone who supported Row New York through our 10th Year Celebration Gala!  When all pledges are received we will have reached our goal of $500,000 to continue to directly support our programs which empower young people from New York City's under-resourced communities to build strength, gain confidence and pursue excellence through the unique sport of rowing.  More than 280 people came to The Loeb Central Park Bark Boathouse September 19th to celebrate our success throughout the past decade and look to the bright future ahead for Row New York.
Check back soon for photos of this year's event as well as details about our 2014 event!
We would like to thank the following very generous sponsors and supporters:
Row New York Heroes
Lisa & Dick Cashin
Thomas & Nancy Cornacchia
Gary Goldring
Power Ten
Cherylyn & Chris Ahrens

Pamela Brewster & Kate Brewster-Duffy

John Chatzky

Lauren & Porter Collins

Mariko & Matt Elwood

Gina Greer

David Huntington

Sarah & David Johnson
Paul & Joelle O'Reilly-Hyland

Emily Keeton

Nick Kraus

Elise Runsdorf Napack

Colin Redhead

Justine Simons & Chris Huntington

Sara & Joshua Slocum

Mandy & Fred Stupart

Gold Medal
Geoff Adamson

Sophie Cottrell & Paul Caminiti

Derek Chang

Lara R. Constable

Ken & Jill Iscol

Tina Jones & George Henry

Bob Karetsky

Maggie Kotuk
Andrea & Ken Kraus

Lindsay & Bob LoBue

Mary & Danny Phelps

Chuck Pieper

Power Ten New York

Michael & Kathy Presto

Kathleen & Ivan Rudolph-Shabinsky

Silver Medal
A+E

Bree Dribbon & Patrick Whetzle

Pamela Saymon & Robert Schumer
Sharon Stulberg & Jon Fish

Hillary Scheerer

Bronze Medal
Jennifer & Ethan Ayer

Maria Bournias

Pique Kelly Buford

Nancy Chemtob

Ali Cox

Tom Delaney

Jonathan Denham

Wendy Flanagan & Christopher O'Malley

Lisa Hall

Marny & Andrew Homan

Lawrence Huntington

Pauline Lee & Daniel Zubkoff

Cecilia & Lawrence Levit

Jeff Lundwall
John & Carol McCann

Laura & Henry McVey

Paula Meyer

Glenn Merry

Robert Milam

Terry Pelster

Edward Rowlands & Jessica Rispoli

Jordan Sagalowsky

Kay & Richard Sanders

Peter Schwab

Kathleen & Chuck Scott

Kate & Tom Shattan

Paula Wardynski

Amanda & Josh Weiss

Rowers
Jennifer Amigone & Dan Saltzman

Arbor Brothers

Robert Benjamin

Chris Cassidy

Concept 2

Lucy Danziger

Jo Ann & John Delafield

Colin Farmer

Laura & Tolman Geffs

Matthew Hughes

Beth & Russ Kohl

Armand Legardeur Architect LLC

Abigail Levy
Judy McGrath & Michael Corbett

Casey Morgan

Rebecca & Pierre Morita

Alison & James Nelson

Silda Palerm & Richard Hall

Ami & Andy Peay

Amanda Pfabe

David Saltonstall

James Treger

Jean Tsien

Universal Sports

Maria Willet

Barbara Phillips & Frank Ceresi

Friends of Row New York
James Bertram & Daniele Skopek

Emily Jennett Butler

Richard Cantor

Ruth & Peter Derow

Ann Marie Desmond

Pam & Greg Donner

Anita & Oliver Edwards

Susan Fisher

Sylvia Francus

Janet & John Garnjost

Patrick Gunn

Anna & Jonathan Horner

Joan & George Hornig

Cathy & Benjamin Iselin

Charles Johnston

Alison & James Kallman

I.R. & John Brian Kelly

Jennifer & John Kelly

Mary Elizabeth Kelly

Vidhya & Robert Kelly

Ryan Kirlin

Andrew Knox

Marcia Lippman

Meredith & David Little

Sharon & Arthur Lukach
Barbara Massey

Alison Mesrop

Lewis Mittman

John Mullen

Ted Nash

J. Eric Nelson

Jesse Oberst

Jane Parkes

Marcia & Fred Phelps

Dr. Nicole Toulis Sardo & Steve Sardo

Susan & Clark Schubach

Marcia & Charles Seigerman

Leah Sklar

Carol & Lewis Simons

Rebecca Simons & Jonathan Fogel

Sheila Spence

Michaela Strand

Eva Tan

Barbara Taylor

Celia & Richard Trayes

Emily Boyd Walker

Alicia & James Weinstein

Barbara Brizzi Wynne

Mark Yale
For details on sponsorship and levels of support, please click here.